---
28 March 2017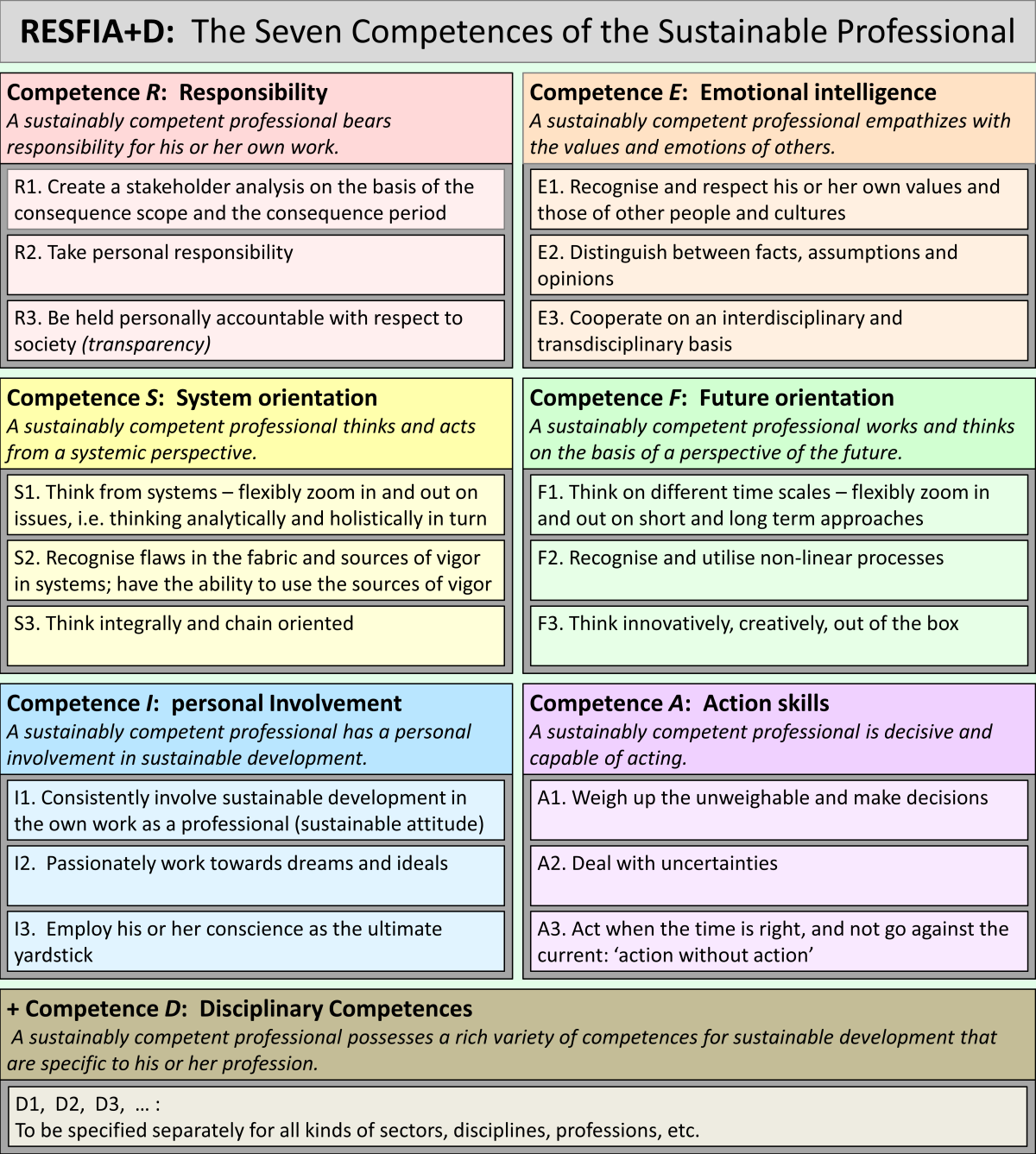 Contract signed for a new book
After thorough preparations, a contract was signed between Greenleaf Publishing, author Niko Roorda, and co-author Anouchka Rachelson. The book had been completed recently: it is called The Seven Competences of the Sustainable Professional, and you can read all about it here.
The book is based on RESFIA+D, the model that I developed for sustainably competent professionals. The model is explained in detail in the Management Methods section.
A Dutch version of the book, De Zeven Competenties van de Duurzame Professional, was published in 2015 by Garant Publishing in Antwerp. It contains many stories by Dutch and Flemish professionals who exhibited excellent professional behavior, thus illustrating one of the competences.
Now, nearly all of those stories of Dutch-speaking 'heroes' (as I see them) have been replaced by American ones. This has been done wonderfully by Miami Dade College professor Anouchka Rachelson.
The book is expected to be available in September 2017; I will let you know. For me this is a celebration: it is my tenth book.
---
25 January 2017
Invitation to partner in a new Erasmus+ project
Thanks to Kees Vromans, I received an invitation to join a new Erasmus+ project. The project will be dedicated to sustainable development in the building and construction sector.The deadline for the proposal is in March; if the proposal is accepted, the project will start in October and last two years.

---
12 January 2017
Keynote Speech and two guest lectures at Miami Dade College, Florida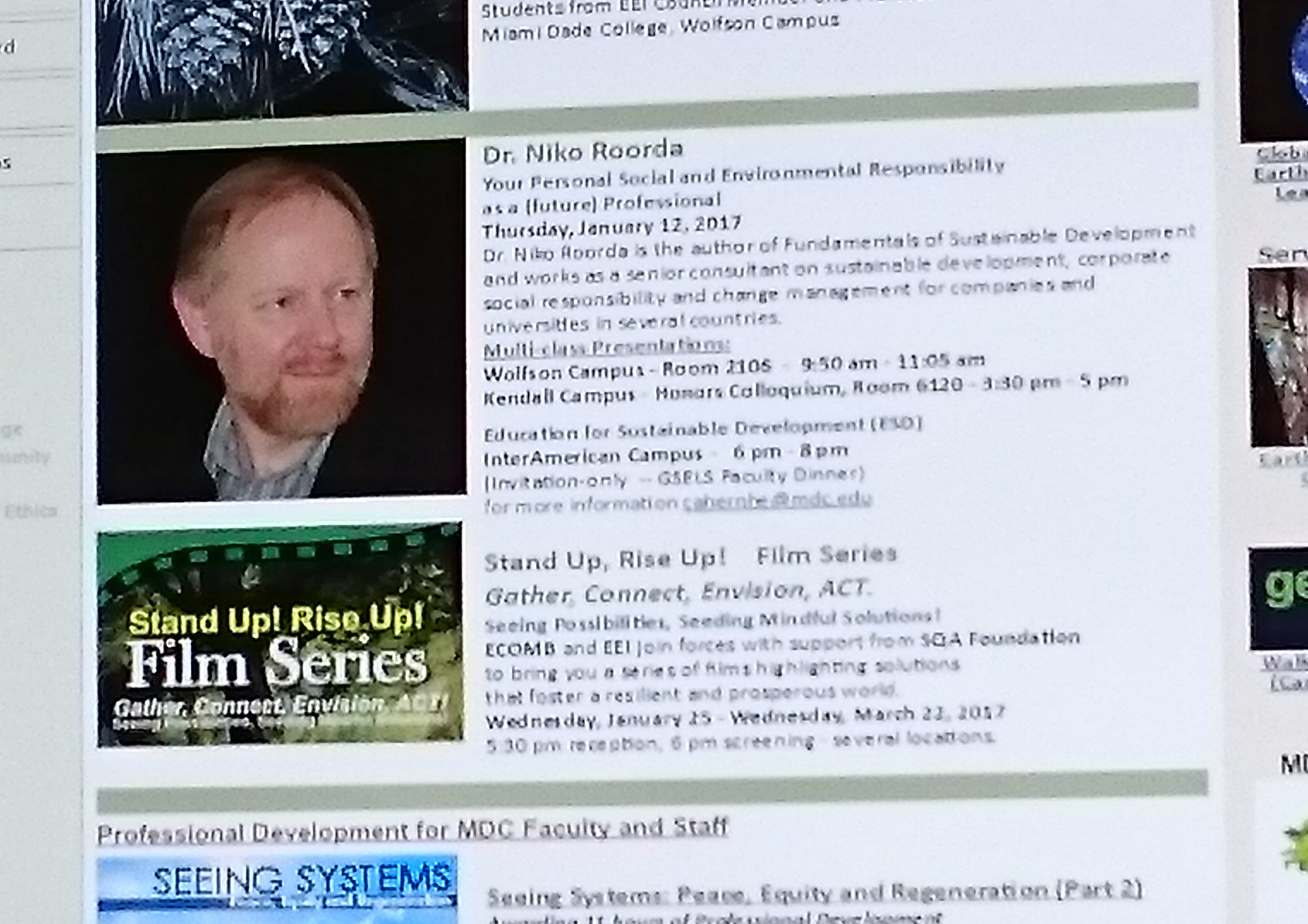 With 165,000 students, Miami Dade College is the largest higher education institution in the USA. I cooperate with one of their associate professors, Anouchka Rachelson, on one of my books, The Seven Competences of the Sustainable Professional.
In January 2017, I visited three MDC campuses. At Wolfson Campus and Kendall Campus, I presented guest lectures for large groups of students. I introduced the concept of sustainable development to them, and described relations with entrepreneurship and corporate social responsibility (CSR). The lectures were recorded on video, and will be available online soon.
During a dinner at the Interamerican Campus, I presented a keynote speech to deans and lecturers on a strategy to implement education for sustainable development (ESD) up to the level of 'system integration of sustainable development' (SISD), a concept I defined and operationalized in my PhD thesis (2010).
---
12 December 2016
Preparations for the 'Seven Competences' book in Spanish
I was approached by Kees Vromans, an expert on sustainable development and ethics in higher education with whom I cooperated in the past. Following his proposal, we have started preparations for a Spanish edition of my book The Seven Competences of the Sustainable Professional, with a focus on Latin America. He will coordinate finding the cases that are to replace the current Dutch and (in the English edition) US and Canadian cases, making use of his considerable network in Latin America and Spain.
---
7 December 2016
Review for IJSHE
Requested by the lead editor, Walter Leal Filho, I reviewed a submission to the International Journal of Sustainability in Higher Education (IJSHE), ISSN 1467-6370. IJSHE is one of the journals I do reviews for.
I must admit: I was not very satisfied with this proposal, I advised that the article can only be published if some serious new research is performed and added. In most cases, my review can be more positive. I felt sorry for the authors - but of course I don't know who they are, as reviewing is anonymous from both sides.
---
5 December 2016
Finished the 2nd edition of 'Fundamentals of Sustainable Development'
A happy day! It was a huge task, to be done in not so much time. Today I completed the second edition of Fundamentals of Sustainable Development. I sent the manuscript to the publisher at Routledge, together with all 175 photos, graphs and other illustrations. The result is very good - in my own humble opinion.
On many days in the last months, I worked till beyond midnight. On average, I did 2 chapters in a month. Now, there will be some time to relax. Christmas holiday is approaching.
---
19 November 2016
Presentation for Rethinking Economics NL

Rethinking Economics is an international network organisation. Its Dutch section is linked to the Stichting Duurzame en Solidaire Economie (see: 16 June 2016). The network mainly consists of economy students of various Dutch universities. In order to discuss my ideas about a book on new economy, as a part of the investigation I am doing, I gave a presentation about them, on a nice Saturday in Utrecht. More discussions will follow.
---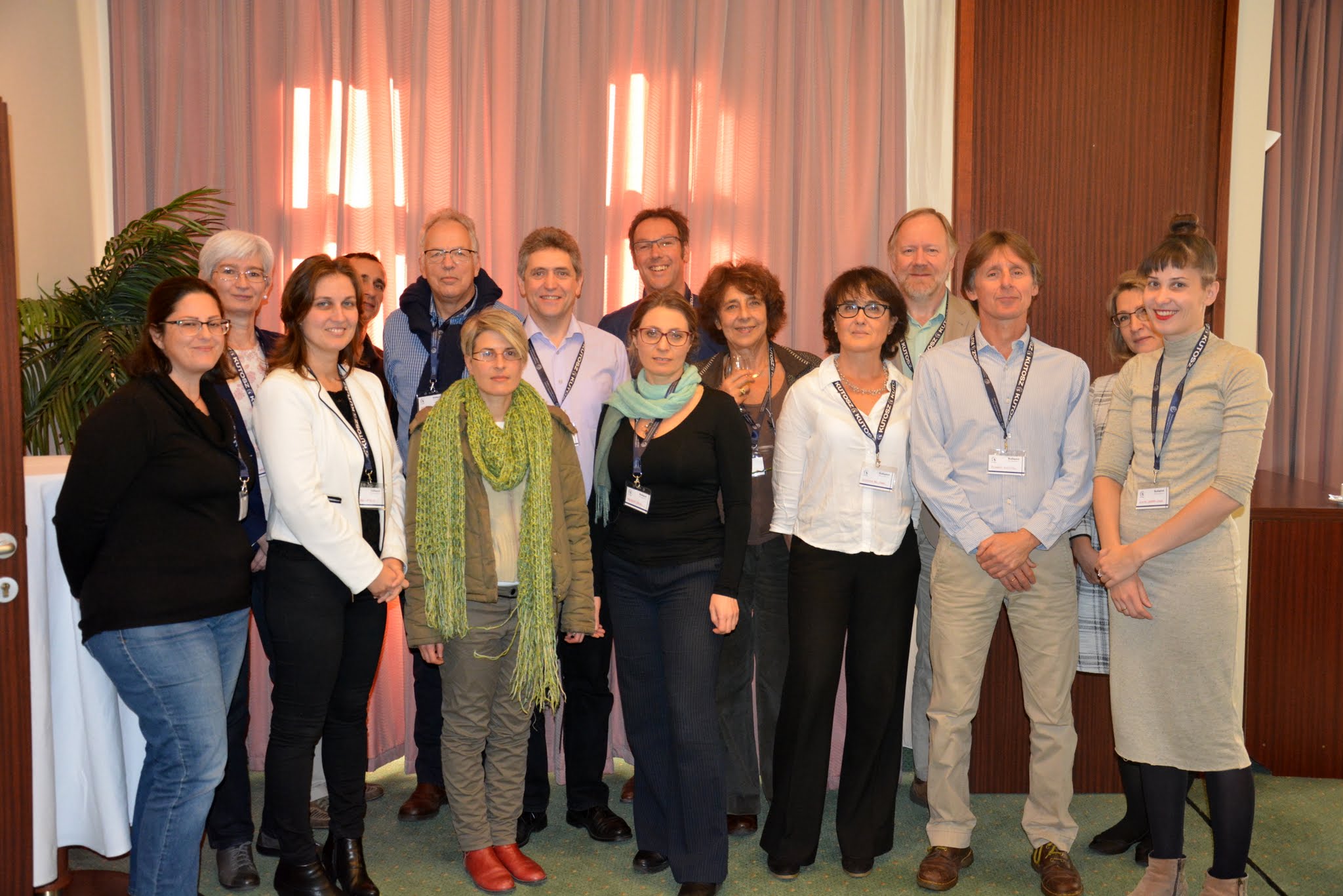 5 November 2016
Hungary meeting of RSP
This day was the final day of an intensive meeting of the Erasmus+ project 'A Rounder Sense of Purpose' (RSP; see: 19 january 2016). The meeting was in Budapest, Hungary. In the months before, I had spent a lot of time to the development of an assessment system on SD competences of educators, based on my RESFIA+D combined with the UNECE model. In the project group, we had discussed my proposals repeatedly through online meetings and emails.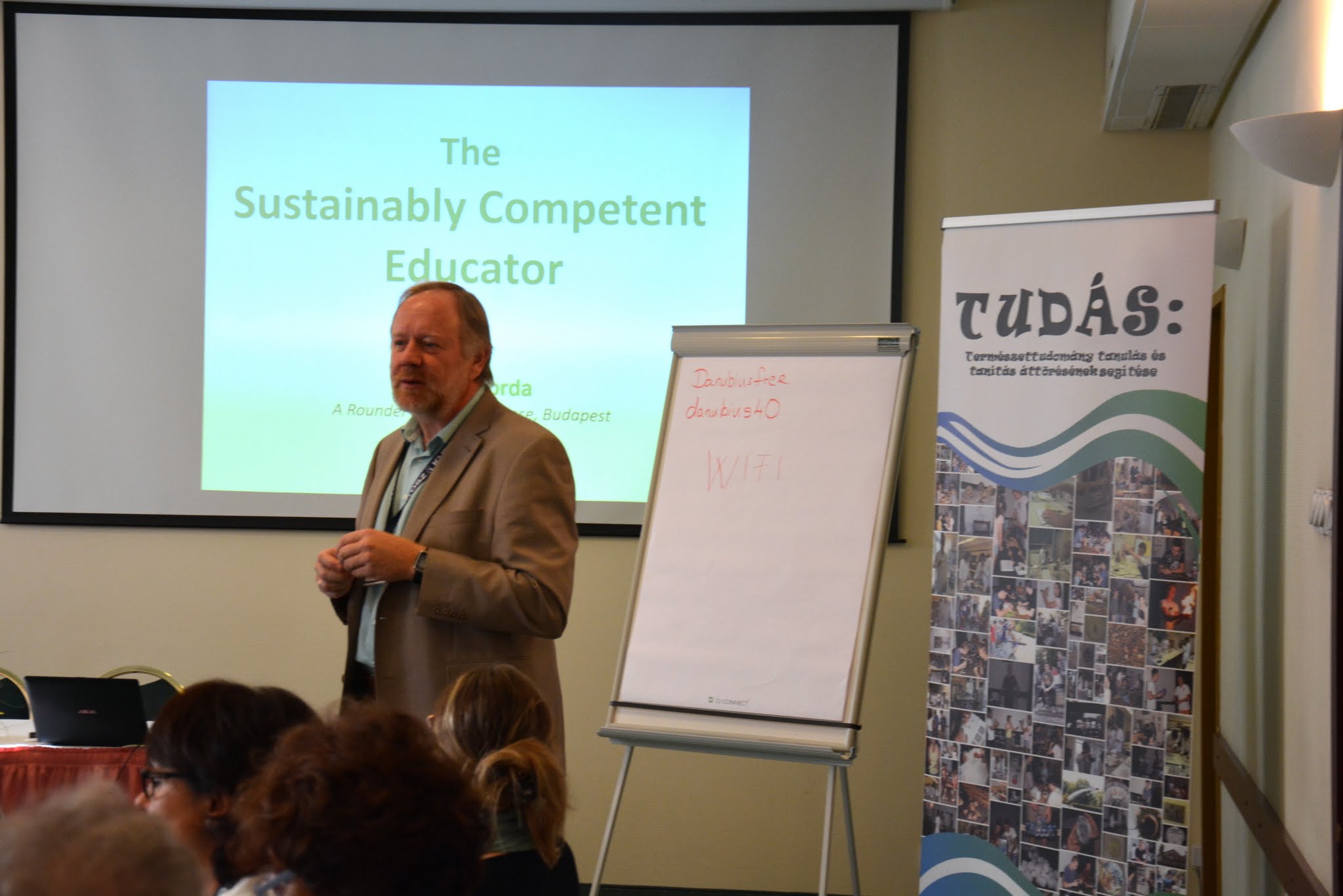 Now, in Hungary, after a presentation by me explaining the model again, its principles were adopted unanimously. Next, the details were discussed profoundly, many adaptations were made, and finally the entire system was agreed.
The next step will be, to set up experiments applying the model in the various countries represented in the project: UK, Cyprus, Italy, Netherlands, Hungary and Estonia. This is scheduled for 2017.
---
12 September 2016
Interview with Marcello Palazzi
Today I had a fascinating interview with Marcello Palazzi, who is an international expert on economy, a Fellow of the Royal Society of Arts (RSA) in London, and a full member of the Club of Rome. He invited me to his home, where we had lunch together. We had a fabulous talk, I made many annotations and learned a lot. He promised his help with the book project about New Economy.
---
01 September 2016
Contract signed for the 2nd edition of 'Fundamentals of Sustainable Development'
After some negotiating, the contract was signed with Rebecca Brennan, a publisher of Routledge who supervises my textbook Fundamentals of Sustainable Development. Based on this contract, I can now start writing the second edition. Of course I had started already, a while ago: if I didn't, I would not have enough time to finish the new book before the deadline, which is: the end of December. Of this year.
---
16 June 2016
Contract signed for an investigation for a book on New Economy
After a series of brainstorms in February till May this year with Esther Somers and others of the Stichting Duurzame en Solidaire Economie (Foundation for a Sustainable and Solidary Economy), Esther and I signed a contract. Based on the contract, I will perform an investigation in the second half of 2016 (and perhaps longer, if necessary) towards a book that is to be developed on behalf of the foundation. The book will make clear to students of universities and colleges that the usual and dominant economic models are not as self-evident as many universities seem to teach them. A new economic approach is essential, which will lead to sustainable development.
During the investigation, I will define the goals, the didactics and the main contents of the book. For this, I will interview many economy experts of all kinds and opinions, as well as HE lecturers, students and others. It is the explicit intention of the foundation that, as a next step, I will write the book as well.
---
6 April 2016
Reviews of 'Fundamentals of Sustainable Development', as a source for the 2nd edition
In the last months of 2015, Routledge sent me a request to write the second edition of my university textbook Fundamentals of Sustainable Development. This was excellent news, as it proved that Routledge believes in the book and wants to continue it. The manuscript of the first edition was completed in 2011, and so it is 5 years old now; a very good moment for a serious update.
Today, as agreed, Rebecca Brennan, my publisher at Routledge, sent me a number of reviews of the first edition that she received in the last weeks. They will be helpful for me to design the second edition.
---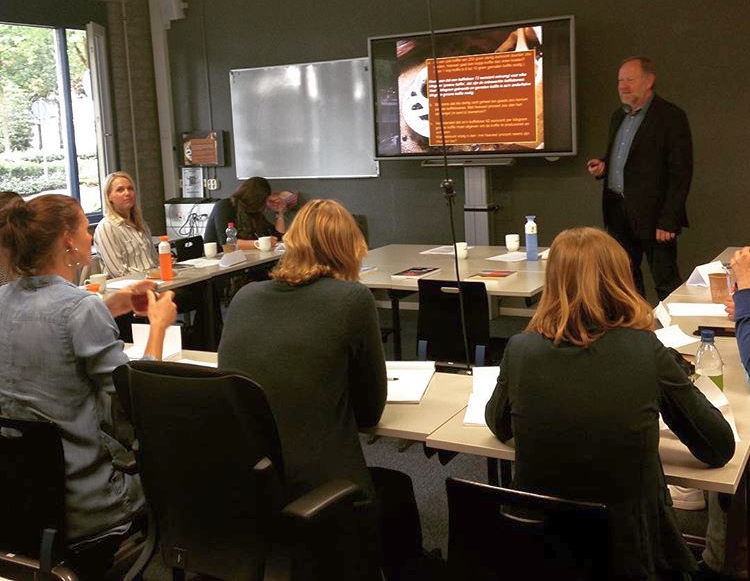 8 March 2016
ESD training for Juridische Hogeschool
During a visit to the Juridische Hogeschool Avans-Fontys, a university college dedicated entirely to law school, it was agreed that I will give an training on education for sustainable development (ESD) to the management and the lecturers.
It will be a two-day training, on 17 May and 7 June.
---
26 February 2016

Coaching project for UCLL completed
Today was the final day of my project together with the University College Leuven Limburg (UCLL) in Belgium. The project started in 2015 with a series of assessments with AISHE 2.0, followed by a coaching trajectory of UCLL staff who performed an SD Curriculum Scan. This trajectory was finished with today's visit to Leuven, during which the strategic consequences of the assessment results were discussed.
---
11 February 2016
ESD training for Esprit board & managers
Esprit Scholen, a group of primary and secondary schools in and around Amsterdam, today invited me to give a training on education for sustainable development (ESD) to the members of the board and to the managers of the various schools.
The training will take one day; it will take place on 22 March.
---
19 January 2016
Plans to cooperate with Duurzame Pabo in an international project (Erasmus+)
Today André de Hamer was visiting me. He told me about a fascinating project by universities & organisations in 6 European countries, funded through Erasmus+. For the Netherlands, the Stichting Duurzame Pabo participates. Other partners are from the UK, Hungary, Italy, Cyprus and Estonia. The task is, to reformulate an existing model for professional competences of educators on sustainable development. Some years ago, UNECE (the United Nations Economic Commission for Europe) designed such a competence model, but it is not very pragmatic. Based on my expertise on this topic (see my RESFIA+D competence model), André and I discussed a possible role for me in this project.
9 February 2016:
Yes, it's agreed: my contribution to this project will be one of my first tasks as an independent professional. It will stretch to at least the end of 2016. I will have a lead role in the model development. A wonderful task.
The project is called A Rounder Sense of Purpose: Integrating ESD educator competences into educator training. It is chaired by the University of Gloucestershire.
---
01 Januari 2016
Started as an independent professional
Since 1981 I worked in permanent positions (tenure) for various universities, schools and foundations. From 2008 I combined these jobs with my work as a freelancer.

After turning 60 in 2015, I decided to proceed as a full-time freelance professional. Freedom! My position at Avans University ended on 31 December 2015, and now I am 100% available for interesting large and small tasks.
---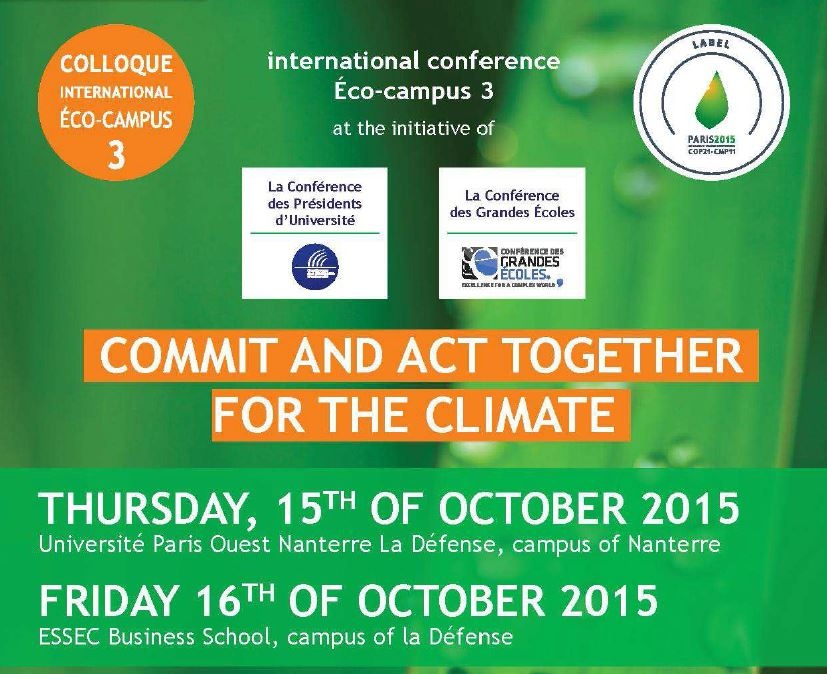 15 October 2015
Presentation at the Eco-Campus 3 Conference in Paris, side-event of COP21
After an invitation by the organisation, I attend the Eco-Campus Conference from 14 till 16 October. The conference is an official side-event of COP21, the huge international conference in December that will attempt to sign the Paris Agreement on climate change.
The present Eco-Campus 3 conference is organised to emphasize the importance and necessary role of higher education for this Paris Agreement and its consequences. It is an initiative of the Conférence des présidents d'université (CPU) and the Conférence des grandes écoles (CGE), the two French association of universities.

In an earlier conference, preceding the present one, I had already presented a short paper. This time I will give a larger presentation, dedicated to professional competences for sustainable development.
---